This is a blog post of facts, covering what's been happening in my world. Basically, it's so I don't have to figure out how to structure this blog post!
Fact: I'm a slow writer.
Fact: I'm pushing out the time between releases even further by writing my first single title romance. I̶ ̶e̶x̶p̶e̶c̶t̶ ̶t̶o̶ ̶h̶a̶v̶e̶ ̶t̶h̶i̶s̶ ̶b̶o̶o̶k̶ ̶f̶i̶n̶i̶s̶h̶e̶d̶ ̶b̶y̶ ̶A̶p̶r̶i̶l̶,̶ ̶2̶0̶1̶7̶. (Since writing this post, I've both reached 65k words and realised I need to start again because reasons. So…I'm aiming more for September/October 2017 at this point. I'm also constantly weeping on the inside for the loss of 65k darlings).
Fact: I'm very excited about this project. The concept is new and seriously fun (but still weighed down by real emotional conflict) and I'm loving these characters.
Fact: I've mapped it out as a three-book series. I will be aiming high and attempting to have it released in print.
Fiction: I have a publisher lined up!
Fact: I have no publisher lined up and need to finish Book One before I can start the hunt.
Fact: I made cupcakes on the weekend and they were delicious #vegan
Fact: You For Christmas will be on sale for 99c at the end of November.
Fact: I just read Glitterland by Alexis Hall and LOVED it. I also reread Fire by Kristen Cashore and cried all over again.
Fact: I'm not participating in NaNoWriMo because the standard target word count for NNWM = 50k and my standard monthly word count = 12-15k. I'm constantly awed by speedy writers.
Fact: I attended Romance Writers of Australia's conference in Adelaide. The banner pic is me with Kelly Hunter and Amy Andrews at the awards night. For the cabaret-themed cocktail party, I went steampunk style (no, that's not my real hair, but I kind of wish it was).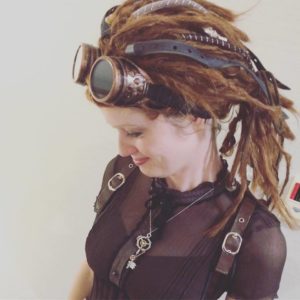 Fact: I thank you for reading 🙂