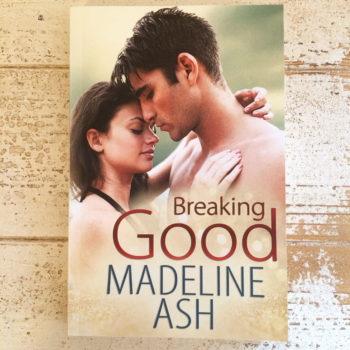 Welcome
Hello, I'm Madeline Ash, and I write sensitive, sexy contemporary romance.
Breaking Good has worked hard this year. It was a 2017 RITA® award finalist in the Contemporary Romance: Short category, and a 2017 RUBY award winner in the Short Romance section. It is the fourth and final release in the Rags to Riches series with Tule Publishing (#1 The Playboy, #2 Her Secret Prince, #3 You For Christmas, #4 Breaking Good) and is about a bad boy desperate to be good enough for a courageous heroine.
As for what I'm working on, I've recently completed my first single title contemporary romance. It's the first in a three (or four, maybe five) book series. It's 96k words and I'm in love with every character between those pages. While I find them a home, I'll be working on another short contemporary romance. I hope to have more concrete news to share soon!
Rags to Riches series
Breaking Good
He wasn't good for her. He never would be.
At eighteen, Stevie Case finally surrendered to her attraction to bad boy Ethan Rafters, sharing one night with him before she graduated and he skipped town on a one-way road to destruction.
Years later, Stevie has hit back life's curveballs and is no stranger to hard work, but when she finds herself working for Ethan, who's turned his life around, her world shatters not only because their chemistry is still fierce and undeniable but because fate separated them before she could tell him he has a son.
Ethan desperately wants to be a good father and a partner yet he believes he'll never be normal. The chaos that defines his life has destroyed his relationships, yet Stevie's acceptance of his flaws tempts him with a life he thought impossible.
Dare he risk Stevie's life of hard-fought stability for his own chance at happiness?